Mold spreads quickly and grows easily. The presence of mold in your home or in the attic can lead to many health issues such as skin or eye irritation, asthma, allergies, wheezing and other respiratory illnesses. If you see a mold in your attic, or a discoloration on the walls that looks like a mold, do not hesitate to give us a call. We will schedule a mold remediation procedure immediately.
Do not try to attempt to clean the mold out yourself. Please save yourself a time and do not use home remedies such as bleach, that only cover up the problem and make it worse. If you want to eliminate the mold issue entirely, you need to hire a licensed professional. Trying to remove the mold on your own is risky, as you could be exposing yourself to unnecessarily health problems, or worse, spread the mold spores even further and be left dealing with the mold problem for years to come.
Attic mold is extremely common in our Northern climate. The main reasons for growth of mold in attics is generally directly attributable to following four causes:
1) Lack of ventilation
2) Roof flashing leaks
3) Improperly exhausted bathroom or dryer fans
4) Missing or badly installed Ice Shield Membrane along the eaves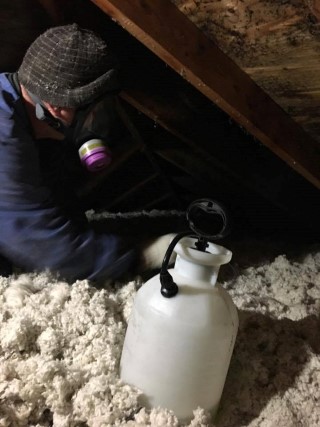 We at Zenic, have invested in trained technicians and the latest mold removal equipment to ensure a thorough job. The health and safety of our clients and staff are a top priority, and for us, that means getting the job done properly, carefully and safely. You can count on us to eliminate your mold problem. We will help you to get to the main cause of the issue and perform a thorough attic wall cleaning, so when we are done, you will be able to breathe easily again.
We employ the best cleaning methods as part of our mold removal process to ensure maximum effectiveness. We'll prep the home, kill the surface mold growth, remove all mold stains and kill the mold so mold doesn't come back. Our mold remediation solution removes all mold strains, even in the most stubborn areas of your attic and provides a permanent solution that stops mold from growing.
Call us to and based on the size of your attic, we'll not only estimate how long it'll take but also provide you with an estimated price quote.
How Mold Growth Occurs
During the winter months when we heat our homes, some of the heat is lost into the attic space. The heated air should move upward towards the attic ridge vent and dissipate outside. However, if the attic is not properly vented, the warm trapped air will start to condense on the cold surface of the underside of the roofing boards. This warm air meets a cold surface that results in a condensation and that is a perfect breeding ground for mold. This is the most common reason, but there are many more ways for mold growth to occur. Ask our inspector if your attic venting is adequate for your needs.
Before and After photos
Following photos are from the recent mold remediation jobs we have performed. As you can see, we are completely capable to restore all of these attic ceilings to mold-free and clean looking attic walls.